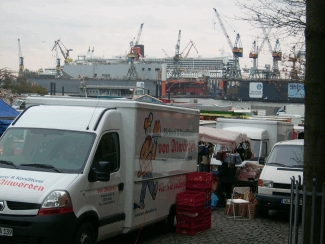 Hamburg Fischmarkt
A few details:
The fish market is very centrally located a short way to the St. Pauli landing stages in the warehouse district, the Reeperbahn (5-10 minutes) and in the city (2 subway stations, about 10 minutes on foot).
However, there is more or less a lot of hustle and Hafenstraße is busy. The place is not even in the green.
For opening times and prices are no more accurate information (see below). On the day - including Saturdays until 24:00) can be well on the adjacent car park.
Electricity and sanitation facilities are available or in preparation (eg, showers).